CLIMATE CHANGE 2023: Synthesis Trailer, Intergovernmental Panel on Climate Change (IPCC)
An email from Bruce Gillette & Presbyterians for Earth Care
I was working on a note to you after Monday's news of the IPCC report and then found that PEC member Jerry Rees said it so well, with quotes from the UN General Secretary, the climate scientist Katharine Hayhoe and others.  Skip down to the "What To Do Now" below the CO2 graphic if you don't want the summary of the new UN IPCC report.
On Monday, the UN Intergovernmental Panel on Climate Change (IPCC) released its 37-page Synthesis Report that is blunt, dire, and conveys an urgent message:
Climate Change is having dangerous impacts on nature and people in every region of the world.
Climate Change undermines our health, our food security, our water supply, and nature on which we rely to survive and thrive.
"Widespread and rapid" changes to natural systems have already occurred, their impacts disproportionately affecting the world's at-risk populations.  More than 3 billion people are highly vulnerable to climate change.
The Climate Crisis is moving faster than we are!
Climate adaptation has advanced, but not enough.  Current levels of funding are insufficient.  Increased warming will make adaptation more difficult.
The world is 1.1 degrees Celsius warmer due to greenhouse emissions from human activities.
Within a decade, the world is likely to miss its goal of holding global warming to 1.5 degrees Celsius or 2.7 degrees Fahrenheit.
If temperatures reach that level, the Earth will pass tipping points that will lead to catastrophic environmental damage, including dangerous sea level rise, entire species going extinct, and even greater suffering in many nations, especially the poorest.
Climate-related risks are rising with every increment of warming.  "Deep, rapid, and sustained" emissions cuts can avoid some future changes, but not others
In the words of UN Secretary-General António Guterres:
"This Report is a clarion call to massively fast track climate efforts by every country and every sector and on every time frame. In short, our world needs climate action on all fronts—EVERYTHING, EVERYWHERE, ALL AT ONCE!  The transition must cover the entire economy.  Partial pledges won't cut it.  The climate time-bomb is ticking.  Humanity is on thin ice – and that ice is melting fast!"

In the words of Al Gore:
"As we've just heard once again from the world's top climate scientists at the United Nations' Intergovernmental Panel on Climate Change (IPCC), we must act NOW to prevent climate catastrophe. THE TOOLS ARE IN OUR HANDS, BUT TIME IS NOT ON OUR SIDE!"

All this being said, the Report offers a faint glimmer of HOPE:

In the words of Simon Stiell (UN's top climate official):
"We are in a critical decade for climate action.  Global emissions need to be reduced by nearly 43% by 2030 for the world to achieve the Paris agreement's goal to limit global temperature rise to 2º C. The Synthesis Report highlights just how far off-track we are."
"It's not too late. The IPCC clearly demonstrates that it is possible to limit global warming to 1.5º C with rapid and deep emissions reductions across all sectors of the global economy.  It has given us many feasible, effective, and low cost mitigation and adaptation options to scale up across sectors and countries."
Tony Seba, Mark Jacobson, and Project Drawdown have provided road maps that show precisely what has to happen in order to dramatically lower carbon and methane emissions. The problem is, nobody wants to do the heavy lifting required to put those tools into action.
In its article The climate time-bomb is ticking: The world is running out of time to avoid catastrophe, CNNreports the world is rapidly approaching catastrophic levels of heating with international climate goals set to slip out of reach unless immediate and radical action is taken.
On Monday, the PBS Newshour led with a Segment about the IPCC Report that included Amna Nawaz's interview with Climate Scientist Dr. Katherine Hayhoe of The Nature Conservancy, who discussed what can still be done to slow, stop, and reverse climate change.  Watch the 7-minute VIDEO.
According to Dr. Hayhoe:
"If we have the will to do so, we can accomplish it.  The problem we have today, though, is, we still, many of us, don't really understand how this issue affects us here and now. And we don't understand that the majority of the solutions we need are already in our hands."
"And that's what the IPCC report makes very clear, that these changes are already affecting us, our homes, our food, our water, our economy, our cities, our states, and the solutions, efficiency, clean energy, investing in nature, adapting and building resilience, many of those solutions are already here today as well.  The only question at this point is, what are we waiting for? If we wanted to accomplish this, we could."
"For many of us, it's because we haven't seen the impacts with our own eyes. We have heard about them. We know what's happening to polar bears or Antarctica or ice sheets, but we're not seeing it here and now. Well, that has changed."
"Over the last year, at least one in three Americans were personally affected by the way that climate change is making our extreme weather more severe. We might live somewhere where sea level is rising, where hurricanes are getting stronger, where wildfires burn in greater area, where the summers are now dominated by record-breaking heat waves."
"Climate change is no longer a future issue. It is right here where we live. It is right now. And the time to fix it is also here now."
Please share this email with those who might like to know or need to know.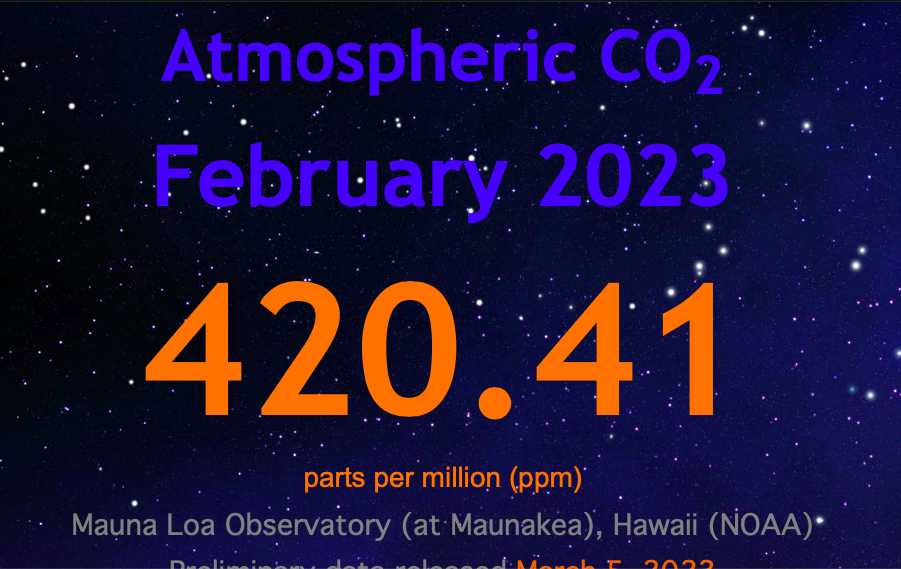 During the last 800,000 years, CO2 did not exceed 300 ppm.
The CO2 concentration at Mauna Loa on March 5, 2023, was 421.44 ppm.  
The last time CO2 was this high, modern humans did not exist.
What To Do Now – ACT & ORGANIZE
The new IPCC report on March 20 made lots of news on Monday and Tuesday resulting in many people being concerned (see links above).  We need to channel those concerns now by organizing meetings to educate people and organize actions.  We can organize zoom meetings with family, friends, and church groups and talk about how to counter climate in a variety of ways.  Try to reach out to more than people who have expressed interest in the past.  I am trying to organize a Presbytery-wide zoom meeting.  Here is what was sent out in our Presbytery newsletter to all churches, pastors and ruling elders involved in Presbytery.  Can you do a similar program in your Presbytery to reach more people?
Our Presbytery & Churches Countering Climate Change NOW!
The March 20 IPCC report by the top scientists in the world is warning all of humanity that we all need to do more quickly to counter climate crisis before it too late (1).  We need every church in our Susquehanna Valley Presbytery to help care for God's creation. We hope each church can have people participate in these needed efforts. Please join us for a meeting to organize ideas for individuals and families, churches and our Presbytery on Saturday, April 1st, 10:00 a.m. on zoom:  Meeting ID: 817 689 1196 Passcode: FPUC
https://us02web.zoom.us/j/8176891196?pwd=SE54bVEzVkwzRFpyYXBTZzkva01CUT09
Owego Pastor Bruce Gillette, SVP JIMM chair, will be coordinating this meeting on the most important moral challenge facing humanity today.  Please contact him for further information at pastorbrucegillette@gmail.com or cell phone:  607-744-0761.  "The earth is the Lord's, and the fulness thereof; the world, and they that dwell therein" (Psalm 24:1).
There are lots of activities happening close to Earth Day in our churches and communities.  Please encourage your church members to support them.  I have talked with the Earth Care Action Group at The First Presbyterian Church in New York City and am thrilled with this program that they are planning:
Can we help you and/or your church care for creation?  
We offer free resourcing for you and your church over the phone, on zoom and in person (if one of our 1,800 PEC members and friends live near you). 
Email us at 
[email protected]
.
Help us grow! Please let us know if there is anyone we should add to our list!
Email us at [email protected]. Thank you!
Please help us to continue to assist individuals and churches in creation care work by donating to PEC on our secure website for donations. Thank you!
Thank you for your prayers for the webinar, the conference and the important work of Presbyterians for Earth Care.
Blessings on you, your loved ones and your care of God's creation.
Grace and Peace,
Bruce Gillette
Moderator, Presbyterians for Earth Care